Audrey Telfer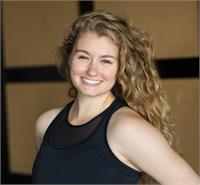 I began doing yoga as young kid, using a VHS tape my mom bought me and wobbling in and out of tree pose. Several years later, I took my first class at PYR and was instantly hooked on the dynamic and powerful movements we explore in every class. The mental and emotional aspects of yoga were slower to take hold, but eventually I found that the deep breathing we practice at PYR creates the critical link between the physical and psychological elements of yoga. My yoga practice is now a serious part of my life and has been since I started college. After I graduated, I went through the PYR teacher training program and began teaching the classes I love to take. As a teacher, I look to help my students cultivate a deep awareness of their breath through physically challenging postures and flows that demand a strong reliance on one's inhales and exhales. I believe the most important part of being a yoga teacher is remaining a yoga student, so I'll see you in class!
Audrey Telfer instructs the following:



Guided Vinyasa - cultivate a powerful & healing breath to lead you through an invigorating flow of cleansing, opening and empowering postures. A surefire way to light up your life.




Yoga Flow is designed to develop and increase your breath and focus, use this to create just the right amount of heat and then allow the heat to release any tension from you in perfectly selected yin style poses.