Polly Swingle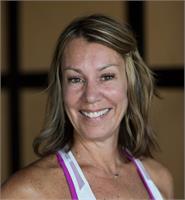 I began practicing yoga in 2001 after my second back surgery. Following surgery my doctor sent me to physical therapy for rehabilitation. As a physical therapist myself, I became quickly frustrated due to my slow progress and the continued back pain. I was craving exercise that would strengthen and lengthen my muscles, align my spine, and ease my internal stress. I wandered into a yoga class and struggled with every pose. After one month I was practicing almost daily and incorporated the yoga philosophy into my private and professional life. In the fall of 2014 I completed the PYR Immersion program which deepened my practice of yoga and awakened my interest in sharing my knowledge of yoga with my patients at The Recovery Project as well as students at PYR. As a business owner myself, I have a deep appreciation of the atmosphere, students, staff and ownership at PYR. I am honored to have the opportunity to share my love of yoga with you. Namaste, Polly.
Polly Swingle instructs the following:
Vinyasa for those wanting to experience a physically slower paced class. Yoga Flow will focus on working at a methodical pace. We will be holding postures, focusing on our breath, and at the same time creating a supple and toned body. Great place for beginners




Guided Vinyasa - cultivate a powerful & healing breath to lead you through an invigorating flow of cleansing, opening and empowering postures. A surefire way to light up your life.




A fluid movement from posture to posture challenging you to connect your mind and body though your breath then use this to sooth tightness and release tension in longer holding "yin" postures. Creating an energized yet relaxed and refreshed body, mind and spirit.




A dynamic series of sequenced postures that flow together designed to build great internal heat in order to purify the body with physically demanding postures done at the measure of your own breath.




Yoga Flow is designed to develop and increase your breath and focus, use this to create just the right amount of heat and then allow the heat to release any tension from you in perfectly selected yin style poses.